When:
November 12, 2019 – January 11, 2020
all-day
2019-11-12T00:00:00-05:00
2020-01-12T00:00:00-05:00
Where:
BMW CCA Foundation
190 Manatee Ct
Greer
SC 29651

Cost:
$25.00, Kids $10.00
Contact:
BMW CCA Foundation
(864) 329-1919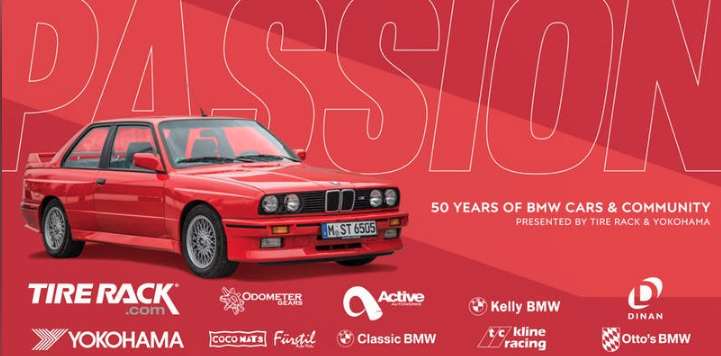 The year 2019 marks 50 years of the BMW Car Club of America, and five decades of the BMW enthusiast experience on our shores. So let's get this party started!
PLEASE Check https://bmwccafoundation.org/visit/for Days Closed & Times
 PASSION brings together five decades of legendary machines, and stories of the people who made the BMW scene what it is today. It's an all-out celebration of the enthusiast experience…and that means you are an important player in the show.
And…heiliger strohsack…the cars! We've got 22 pristine examples of the cars you wish you owned…or still owned. These are the machines that dominated each of the five decades since 1969, and defined the aspirations of the BMW brand, and the fans. From Bobby Rahal's Inka 2002, to the angled anger of the M1, to the Euro-only M5 Touring, you'll see a room full of the very best BMWs in the world.
But we don't stop with stock. After all, PASSION is a celebration of the enthusiast. And enthusiasts like to…how do we put this…make changes. So you'll see the Active Autowerke M3 that won its class in the 2008 One Lap of America. You'll see incredible creativity and workmanship from the best home garages. And the rumors are true…you'll see the famed Rusty Slammington, straight from the West Coast and perhaps the most-Googled BMW of the last decade. It's an absolute monster, and you don't want to miss it.
PASSION launches to the public on May 20, and runs through January 17, 2020.
And of course, PASSION exhibition books, posters and merchandise will all be available to feed your unhealthy obsession.
PASSION: 50 Years of BMW Cars & Community is presented by Tire Rack and Yokohoma, and generously supported by Active Autowerke, Classic BMW, Dinan, Kelly BMW, Odometer Gears, CocoMats / Furstil, Otto's BMW, and TC Kline Racing.
_____________________________________
We're charging $25 per person for this experience ($10 for kids). Here's why. Your BMW CCA Foundation is a nonprofit organization, and exists only through the generosity of its donors. Your admission fee will help to sustain the CCA Foundation Museum & Archive, and it will also help fund Tire Rack Street Survival, a national car-control training program for teenage drivers.
You'll leave with something cool. Your admission fee includes a special PASSION collectible for you to take home. You'll love it…promise.
Food Trucks will be serving up lunch onsite. Between 11:00am and 2:00pm, you will have the ability to purchase lunch from top-quality food trucks parked onsite (lunch is not included in your admission fee). There are also several restaurants located at exits 63 and 54 on Interstate 85.
This place is worth seeing. The BMW CCA Foundation Museum & Archive is located just 50 minutes south of the Vintage host hotel, directly next door to the BMW Performance Center, and across the street from BMW's largest manufacturing center. The Museum & Archive currently preserves about 45,000 BMW-related items, from rare cars to engines to art. It's the largest such collection in the Americas. And if you're a member of the BMW Car Club of America, it's all here for you.
_______________________________________
FAQs
You're charging admission for this event. Where does my money go?
Your admission fee will be used to operate your BMW CCA Museum & Archive, the largest in the Americas. It will also help to support Tire Rack Street Survival, a nationwide car-control clinic for teenagers. And finally, your admission charge covers the cost of a special item you'll receive when you're here. Last year, the Foundation, our volunteers and supporting organizations trained more than 2,800 young drivers. The Foundation's programs are donor-supported. They don't happen without you, so we're grateful for your support!
Is there an age limit to enter the event?
All are invited. There is no age limit for this event.
What are my transport/parking options getting to the event?
We've got the only building on our street. We have plenty of parking all around our building, on the street, and you are welcome to park on the grass. We will have volunteers here to show you where you can park.
What can/can't I bring to the event?
Bring your enthusiasm and love for the marque! And bring your cameras…you are welcome to take all the photographs and video you want. Pets may be brought to the property, but they will not be allowed inside the building.